Rubber Wheel Covering Expertise
Strip and re-cover service for wheels
Manufacture of completely new wheels
Competitive pricing and short lead times
Contact us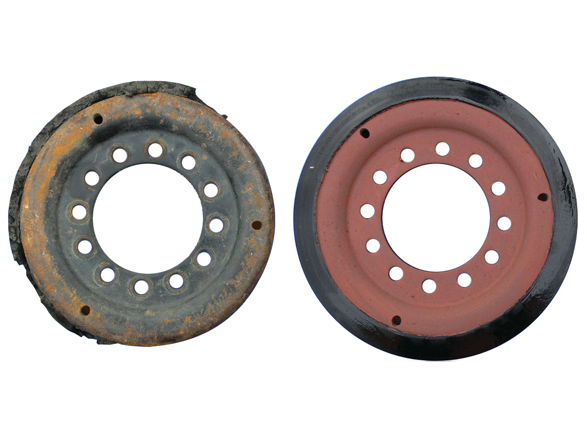 Rubber Wheels Covering
With over 50 years of experience in covering wheels in both rubber and polyurethane materials across a range of different industries, we are leading UK experts for all your wheel covering requirements.
We can cover all types of wheels in a range of sizes from small wheels used in lifting equipment to larger Steam Engine wheels. We can re-furbish existing wheels or cover from new.
Our Wheel Covering Capabilities
We provide a one-stop shop for all wheel covering requirements and our investment in the latest roller covering and precision engineering equipment means we offer a complete in-house wheel covering manufacturing service. We can:
manufacture complete new rubber covered wheels including the steel or aluminium drum and shaft
apply rubber coverings to customer's wheels supplied to us free issue, or
refurbish worn rubber covered wheels including either stripping and replacing the existing rubber covering or re-grinding the existing rubber surface.
We are with you every step of the way

Wheel Covering Service
We can collect customer's wheels using our own transport or we will arrange collection using one of our trusted logistics partners. We aim to offer a fast and reliable wheel covering service and always try to accommodate quick turnarounds for breakdown situations.
Our advanced covering, curing and grinding equipment mean we can cover wheels up to 3 metres in diameter.
Wheels can be ground to various profiles using our state-of-the-art CNC equipment including: Smooth Parallel Ground, Crowned Ground, Tapered Ground, Polished Finish or alternatively we can supply rollers with Plain Finish,
We can also groove wheels in various patterns including: Helical Groove, Diamond Pattern, Lineal Groove, Spiral Groove, Castellated, Chevron Grooved and Herringbone Groove.
Rubber Wheel Covering Materials
We cover wheels in a range of materials including but not limited to:
Natural Rubber
Nitrile Rubber
Silicone
EPDM
Polyurethane
Butyl
Fluorocarbon
Nitrile
Our Industries
The industries we work in are wide ranging including agriculture, material handling, food and drink processing, print and packaging, recycling, aerospace and construction to name but a few.
In Agriculture we strip and re-cover mid, idler, drive and front wheels for all track systems including: Case Quadtrac, Challenger Mobil-trac, Claas Terra Trac, John Deere Track, New Holland Smarttrax.
Types of Wheels
Examples of wheels we have worked on include:
Track Wheels
Steam Engine Wheels
Traction Engine Wheels
Forklift Wheels
Bandsaw Wheels
Trolley Wheels
Trailer Wheels
Idler Wheels
Mid Wheels
Drive Wheels
Jockey Wheels
Carriage Wheels
Agricultural Wheels
Combine Harvester Wheels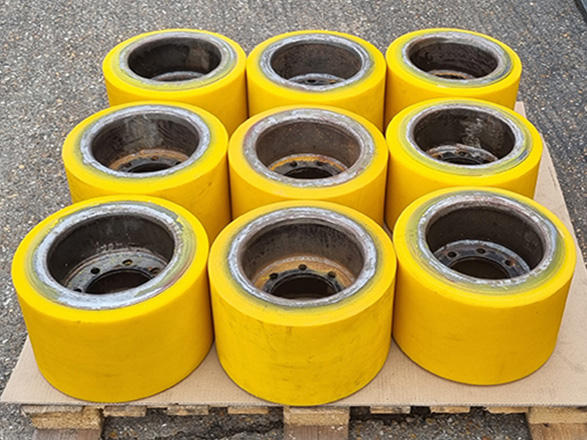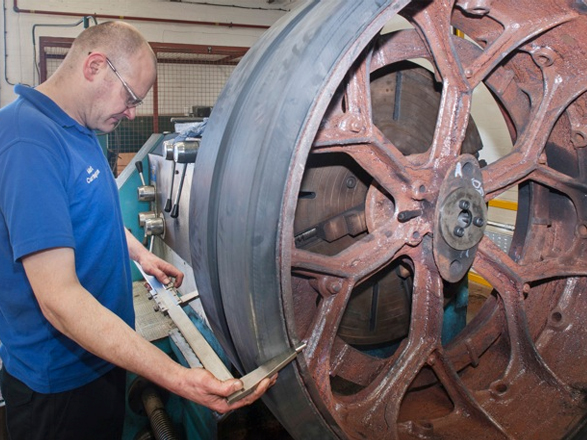 Technology & Expertise
We have over 50 years of experience in covering wheels in both rubber and polyurethane materials. We have a one of the largest diameter autoclaves in the UK. This capacity means we can cover items from of all sizes up to a diameter of 3 meters with wheels up to a ton in weight, allowing us to work to meet individual customer requirements.
Reputation for Quality
Clifton Rubber's tracked tractor wheels and rollers are regarded as the best in industry for quality and value. Our wheels are guaranteed against any premature de-bonding of the tyre, so you can be assured of our commitment to keep your equipment running.
To maintain a quality product and service we put quality at the heart of our processes. Our quality management system is therefore certified to ISO9001.
Contact us today to discuss your wheel covering requirements or book a collection.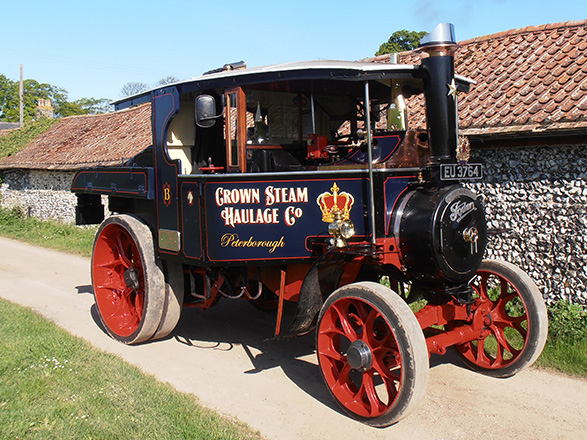 Testimonials
"There are a lot of rubber rollers in our food processing plant and Clifton Rubber have always provided a great refurbishment service when our rollers need repairing. We get our rollers back quickly and they are always great quality."

"Excellent service which is unusual in this day and age. The polyurethane screening stars do the job great, very very pleased."

"Really pleased we found Clifton rubber, their technical team really helped us in the early stages of our project and now they produce our parts which we know will be top quality every time."

"Just to let you know that our new ditch matting that we purchased from you is spot on. Used all through this busy season, really pleased with it."

"Since Clifton Rubber has taken over the re-covering of these gripper pads the customer has had no premature failures and the products have a much longer lifespan."