New Bespoke Polyurethane Moulding Project Provides Parts for High End Bar Equipment
We have recently successfully completed an interesting project for a new consumer products company. The customer required a bespoke polyurethane drip tray moulding, which would form part of a new piece of high-end bar equipment.
One of the key customer requirements was a bubble and blemish free finish to the polyurethane and in addition they required a variety of colour options.
Our Production and Sales teams worked closely with the customer throughout the process to produce one off-tool samples. Initially the surface finish and hardness of these first samples was not suitable for the customer's needs.
Customer Feedback Helps Refine the Design
With the customer's feedback our team made some amendments to the tooling and the casting technique and produced further samples for them. These had a smoother finish and were at a slightly harder Shore A hardness, which the customer was very happy with.
Initially the Production team produced these parts in a black polyurethane material but have been able to manufacture them in blue also. It is always possible to colour match to a RAL number provided to us, which gives the customer a full range of colour options going forward.
The customer was delighted with the finished design and felt it met their requirements exactly as expected.
The Benefits of Polyurethane Moulding
At Clifton Rubber we process polyurethane elastomers using the two principal methods of open pour casting and closed injection moulding.
Each process has key benefits depending on order volumes, product complexity and the required physical properties of the component's end use. This production flexibility means that we are best placed to provide our customer with an effective solution whether producing high volumes or single run bespoke items.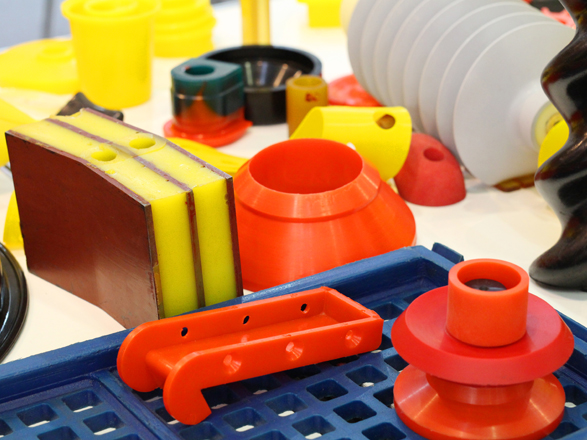 Testimonials
"Clifton Rubber produced bespoke polyurethane mouldings for us to our design and worked closely with us to develop our product. We're very happy with the end result and would recommend them to others"