A Leading UK Manufacturer of Elastomeric Polyurethane Mouldings and PU Castings
Bespoke polyurethane projects from concept through to delivery
A UK manufacturer established over 50 years
Trusted to supply elastomer PU parts & components by some of the worlds leading manufacturers
In-house precision engineering and toolmaking service
Experienced technical sales team available to discuss any polyurethane  moulding project
Contact us
Polyurethane Moulding & PU Casting
Clifton Rubber is a prominent UK manufacturer of elastomeric polyurethane mouldings and PU castings. We make high quality PU parts to our customer's bespoke requirements in a range of industries worldwide.
We have extensive experience in the design, development, prototyping and manufacture of polyurethane products. We manufacture PU products to almost any design or specification using our in-house moulding, casting and coating processes.
Our expert technical team can assist in the design and development of any required polyurethane item, working with our customers to provide a high quality and dependable product solution. We offer a comprehensive project management service from start to finish, working with you every step of the way to ensure your PU product is delivered on time and to your complete satisfaction.
We produce PU components for various applications in all major industries worldwide including agriculture, recycling, offshore, automotive and transportation. Some of our PU projects have included PU conveyor rollers, PU seals and PU wheels and castors.
We are with you every step of the way
Expertise in PU Moulding
We have extensive experience in the design, development, prototyping and manufacture of cast polyurethane products.
All production takes place at our production facility in Cambridgeshire, which spans over 50,000 sq ft. We continually invest in state-of-the-art polyurethane moulding technology and our highly skilled PU technicians and management team strive to be at the forefront of material and processing technologies within our industry.
In our dedicated Polyurethane Workshop, we manufacture solid PU parts using Cast Elastomer Polyurethanes. Polyurethane Elastomers are a very versatile material used in a range of applications from common consumer goods to more complex industrial parts.
We put quality and impeccable service at the heart of all our PU moulding projects and the production of all our standard PU components. Our quality management system is therefore certified to ISO9001.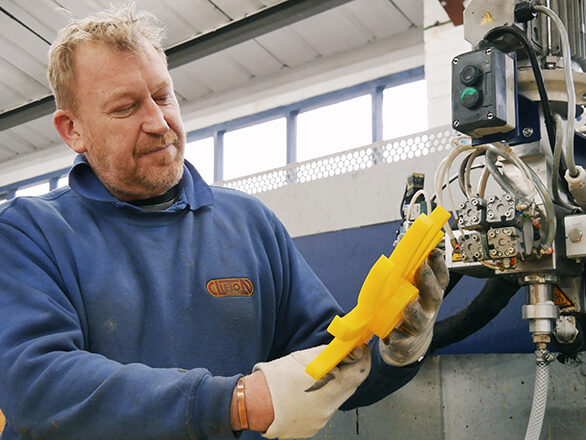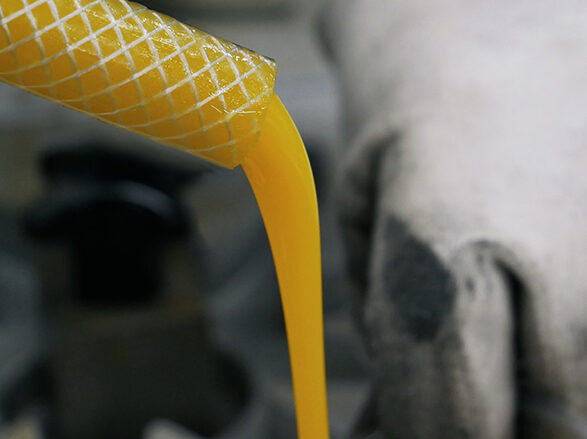 Polyurethane Materials and Systems
Since the discovery of polyurethane in 1937 the material's use has grown rapidly with polyurethanes being used in a wide variety of products and applications such as mattresses, car seats, thermal insulation, solid tyre wheels etc.
These polyurethane systems can be broadly broken down into six main categories and the decision of which system is most suitable for your requirements will depend on the application of the product and the environment in which it will be used.
Cast Polyurethane Elastomers (PU) – Excellent engineering and mechanical properties make cast polyurethane elastomer products suitable for a wide variety of applications. Solid in structure this material has rubber like elasticity and flexibility whilst maintaining excellent wear and abrasion characteristics. PU can be processed to different hardness values and colours and is suitable for high performance products used in the harshest environments.
Thermoplastic Polyurethanes (TPU) – Are solid in nature and like Cast Elastomers offer excellent flexibility and wear characteristics. However, due to their thermoplastic nature TPUs are not suitable where the product develops or is subject to heat. TPUs are common in high volume production runs where elasticity and wear resistance are required such as shoe soles, instrument panels and seals.
Polyurethane Foams (Flexible, Rigid and Integral Skin) – Foams are produced by adding a blowing agent to the polyurethane system creating a material with a cellular structure. Flexible foams are used widely in cushioning products such as mattresses and seat cushions, while rigid foams are most widely used for insulation boards.
Polyurethane Adhesives, Coatings and Paints – Typically water based or solvent based liquid systems used to cover, seal or adhere to a product or substrate in order to increase the durability or prolong lifespan. Applications include roofing liquid membranes, floor paints and tank sealants.
Polyurethane Binders – Used to bind different materials together such as playground rubber floors, wood panels and carpet underlays.
3D Printable Polyurethane – A relatively new area of development. Printable polyurethanes are being developed to speed up manufacture of prototype parts as there is no requirement for a mould. Whilst the material and processing technologies are continuously developing these materials are not currently economic for any volume requirements and the mechanical strength has not met the performance of cast elastomers.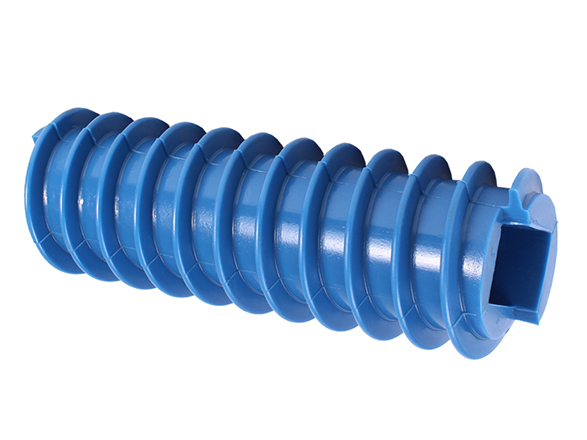 At Clifton Rubber we process cast polyurethane elastomer systems. Our PU technical team can specify the most suitable polyurethane system formulation depending on the required application and service environment of the end component. Our systems include both MDI and TDI Isocyanates and Polyester and Polyether Polyols.
We process polyurethane materials anywhere within the range of 50 Shore A to 80 Shore D, and colours can be specified to suit the customer requirements, with commonly specified colours being: Black, Red, Yellow, Green, Orange and Blue.
The polyurethane materials we use in our casting and moulding processes are sourced from the industry's leading suppliers and are supplied to us having been tested and approved to the highest standards.
The Cast Elastomer Polyurethane Moulding Process
Polyurethane moulding is the process of manufacturing polyurethane parts by mixing and then casting a PU urethane system into a mould. The subsequent reaction of the component chemicals forms a solid material in the shape of the mould cavity.
We process polyurethane using the two principal methods of open pour casting and closed injection moulding. Each process has key benefits depending on order volumes, product complexity and the required physical properties of the component's end use.
We process polyurethane elastomers using the most advanced processing equipment. This automated mixing equipment ensures the complex chemical mix ratios are accurate for each part produced unlike traditional hand mixing methods. Our automated processing equipment can make parts to any colour or hardness and can add any specialist performance additives such as UV stabilisers and softeners.
Once parts are moulded, they are trimmed of any mould flash and 100% inspected. Parts are then and packed and shipped via one of our dedicated couriers. Our production and logistics teams can work with customers on any specific packaging or shipping requirements.
This production capability and flexibility means that we are best placed to provide all our polyurethane moulding customers with the best solution whether producing high volumes or single run bespoke items.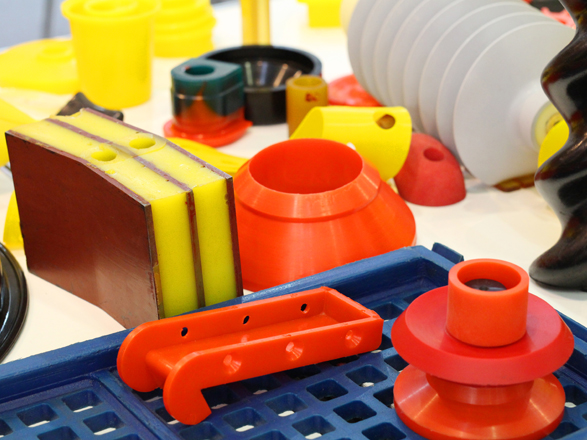 Polyurethane Products and Applications
We have produced many custom products to exceed our customer's requirements and specifications. Common products include:
PU Wheels and Tyres – Such as forklift wheels, guide wheels and castor wheels used in the material handling industries.
Polyurethane Buffers – Used in many applications such as industrial dunnage, vehicle buffers and loading bay buffers.
Polyurethane Coatings – We can apply elastomer PU coatings to various assemblies such as polyurethane coated rollers, polyurethane coated wheels and PU coated linings.
PU Rings and Seals – PU sealing rings can be manufactured to any diameter, thickness, hardness and colour. Our seals can be made to tight tolerances as required by the customer.
PU Rods – We can supply PU rods in varying diameters and lengths. Our PU rods are typically used in engineering machining processes.
Polyurethane Sheets – Can be supplied in whole sheets or we can cut component parts from sheet materials.
Find out more about our other Capabilities
Companies We've Worked With
0
1
2
3
4
Industries We Work In
We create bespoke and custom rubber mouldings for use in specific industry applications. Our products are trusted by many of the world's leading companies for use in some of the harshest environments, across a range of different industries:
Testimonials
"Excellent service which is unusual in this day and age. The polyurethane screening stars do the job great, very very pleased."

"Really pleased we found Clifton rubber, their technical team really helped us in the early stages of our project and now they produce our parts which we know will be top quality every time."

"The Clifton Rubber Bowls Ditch Liners look and feel top quality. Thank you for all your help and advice when placing the order. We will definitely be recommending you."

"Working with Clifton Rubber has been a real pleasure. Their technical department have gone above and beyond the call of duty to produce the special shaped rubber profile I required. I'm extremely pleased with the end result."

"Just to let you know that our new ditch matting that we purchased from you is spot on. Used all through this busy season, really pleased with it."

"Since Clifton Rubber has taken over the re-covering of these gripper pads the customer has had no premature failures and the products have a much longer lifespan."
Polyurethane Moulding FAQs
What polyurethane is used for?

Polyurethanes are a versatile material that are used in a wide variety of applications. We produce cast polyurethane elastomer products which are used in all manner of consumer and industrial products such as PU screening stars, PU bellows, PU dunnage, PU rollers etc.  Polyurethane foams make up the largest segment of the PU market and these materials are used primarily for insulation boards, mattresses and shoe cushioning products.  Polyurethane adhesives, coatings and paints are used in liquid form in products which cover, seal or adhere to another material or structure.

Is polyurethane rubber or plastic?

Whilst polyurethane systems are neither the same as rubber nor plastic in chemical structure, polyurethane does fall into the same high-level category of synthetic polymer materials.  Generally, plastics and rubbers are differentiated by their elasticity, where rubber is an elastic material that will return to its original shape when deformed and plastic is an inelastic material that will permanently deform when stretched or impacted.

Clifton Rubber's polyurethane casting systems are thermosetting elastomers with permanently linked polymer chains that have elastic properties very similar to rubber.

What are the disadvantages of using polyurethane?

Certain polyurethane systems will suffer from hysteresis if subject to high friction applications such as fast-moving PU wheels and tyres.  Polyurethane can also be affected by ozone and weathering so may not endure as long in certain external applications as rubber alternatives.

Can you do custom moulded polyurethane runs?

Yes – we work with customers to manufacture products that meet their exact requirements including custom or bespoke polyurethane projects.

Is polyurethane trim waterproof?

Polyurethane is durable and can be 100% waterproof.

What are the common applications for Polyurethane Moulding?

Polyurethane has excellent abrasion and dynamic load resistance and is a castable liquid that can be moulded into various shapes. This makes PU an excellent material in many applications.  We have produced thousands of custom products to match customer requirements with recent examples including PU wheels, buffers, coatings, rings, rods and sheets.

Can Polyurethane Moulded Rubber Be Made in Any Other Colour Than Black?

Yes – we can make it in a range of colours to suit your need.  Polyurethane colours we have processed include grey, red, blue, yellow, orange, green, white and black.

Can Polyurethane Be Used Outdoors?

Yes it can – although it depends on the application you are using it for. Contact one of our technical team to discuss your requirement.

Can Polyurethane Be Recycled?

Polyurethane elastomers can be recycled in one of two ways: either mechanically, in which it's reused in its polymer form, or chemically, in which it's broken back down into its chemical components. Common uses for recycled polyurethane include carpet padding, boards and mouldings that can be used in soundproofing and flooring, and even as raw material for new polyurethanes.

What are the most common industries you supply to?

We supply polyurethane products to a range of industries across the globe – including agriculture, waste & recycling, automotive, transport, food & drink, manufacturing, offshore and construction.

What are the advantages of polyurethane mouldings over other materials?

PU Mouldings are extremely versatile materials that can yield different properties dependant on the system used, either rigid or flexible, hard or soft, resilient, durable and hard wearing.  PU's withstand formidable levels of corrosiveness, pressure, abrasion, impact & heat.

Can polyurethane mouldings be custom-designed and manufactured?

We offer custom production capabilities and solutions to suit a customer's needs and also offer a range of standards polyurethane components available to buy directly.

What is the typical lead time for polyurethane moulding production?

This depends very much on the product and the customer requirements which is why we will work with you every step of the way to ensure your project is delivered on time and on budget.

What is the minimum order quantity for polyurethane mouldings?

There is no minimum order quantity – we produce one off prototype products through to high volume production runs.

Can polyurethane mouldings be coloured or textured?

Absolutely.  Our commonly specified colours being: Black, Red, Yellow, Green, Orange and Blue and we offer a range of textured finishes.