A Leading UK Rubber Mouldings Manufacturer
Bespoke rubber moulding projects from concept through to delivery
50 years of experience in manufacturing rubber moulded components
Work with leading global companies supplying rubber moulded components
All production carried out in our UK manufacturing facility
In-house manufacture of all mould tools and moulded inserts
Contact us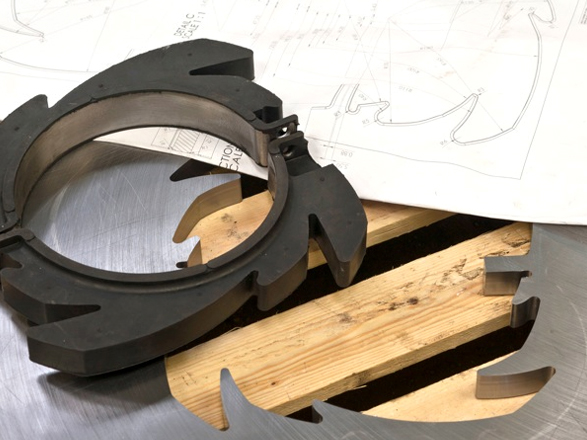 UK Rubber Mouldings Manufacturer
As one of the UK's top manufacturers of rubber mouldings, we work with both original equipment manufacturers (OEMs) and end-users across various industries. We are based in the UK and have gained recognition for our expertise in designing and manufacturing high-quality rubber moulded components using various in-house rubber moulding processes. Our quality management system is certified to the ISO9001 standard ensuring our people and processes consistently deliver a quality rubber moulded product for our customers.
We work with customers across industries such as the transport, agriculture, offshore and defence sectors who use rubber moulded products made by us for their specific applications. Our team of rubber technicians work with clients at all stages of the rubber moulding process - from concept through to design, production and delivery in order to ensure we supply a dependable and cost-effective bespoke rubber moulding solution that meets our customers' requirements.
In addition to manufacturing bespoke moulding solutions, we also offer a range of rubber parts we have developed for specific industry applications. These include items such as;
These rubber parts can be found in our product section.
Our advanced moulding machinery and in-depth technical knowledge make us your one-stop-shop for all your rubber moulding product requirements.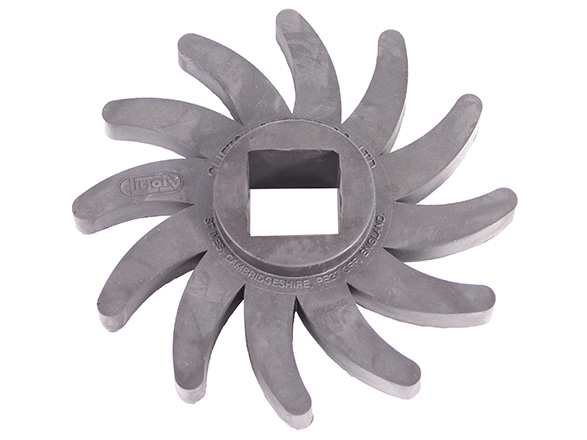 We are with you every step of the way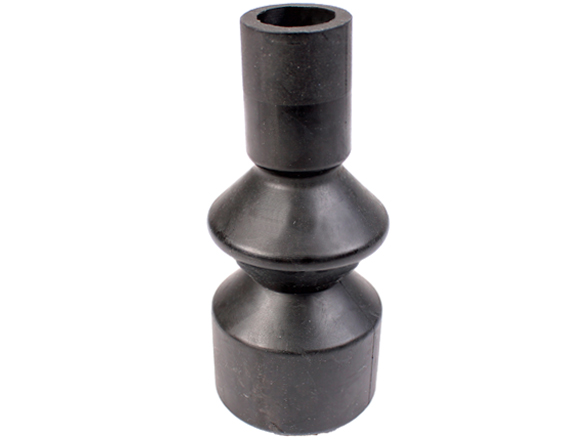 Our Moulding History and Expertise
We are a rubber moulding UK based company who have been producing rubber mouldings for over 50 years. We offer a bespoke manufacturing solution to meet our customers' exact requirements taking your idea from concept to design and through to production.
At Clifton Rubber we are specialist in the three primary moulding processes – compression moulding, transfer moulding and injection moulding. This capacity mix gives us the flexibility required to make a broad range of rubber products, from small complex parts up to very large industrial rubber parts and one-off prototypes through to high volume continuous production runs.
We operate from a 50,000 sq ft production facility in Cambridgeshire and supply products to a global customer base. We have experience in supplying parts on a make to order, make to stock, kanban or just in time approach, agreeing requirements with our customers at an early stage in the process.
Our expert engineers and experienced sales team work closely with you to understand your exact needs. We provide support at all stages of your project, from initial design, selecting the most appropriate material, providing prototypes, testing, manufacturing & production.
To maintain the highest moulding quality standards our quality management system is certified to ISO9001.
Products Manufactured
We have significant experience in manufacturing rubber moulded components. We have manufactured components for customers in a wide range of industries ranging from nuclear, automotive, oil and gas and marine. The products we manufacture for customers are made to their specific requirements, but can include the following categories:
Rubber boots
Rubber pads
Rubber mounts
Rubber valves
Rubber liners
Rubber grommets
Rubber bushes
Rubber seals
Rubber moulded gaskets
Rubber to metal bonded assemblies
Rubber couplings
Rubber o rings
Rubber tyres
Rubber hoses
Rubber shoe soles
Rubber window seals
The Rubber Moulding Process
In principle the rubber moulding process allows us to turn soft rubber materials with plastic properties into a specific rigid shape with elastic properties.
To turn a rubber from plastic to elastic the polymer chains within the material must cross-link, a process called vulcanisation. To achieve vulcanisation, the plastic rubber material is mixed with a chemical curative and then subjected to controlled heat and pressure.
Rubber Moulding is the term for vulcanising the rubber compound while forming a shape in a single process. At the end of the moulding process you have a vulcanised elastic rubber product in the shape of the mould cavity.
There are three main methods of moulding rubber products and they are distinguished by the way the rubber material is introduced to the mould cavity.
These methods are Compression Moulding, Transfer Moulding and Injection Moulding. You can find out more about each of these by clicking below:
All three moulding processes use hydraulic presses to provide the pressure and temperature required for vulcanisation. At Clifton Rubber we have a diverse mix of moulding presses which can mould parts using any of the three moulding methods. This manufacturing capacity mix gives us the flexibility required to make a broad range of rubber products from simple prototype parts to complex high volume production runs.
Once a part has been moulded it must go through a finishing and inspection process to remove any excess flash and ensure the part is dimensionally accurate and free from any surface defects. Our experienced finishers use both automated de-flashing equipment and hand finishing techniques to ensure every product meets our high-quality inspection standards before being shipped to our customers.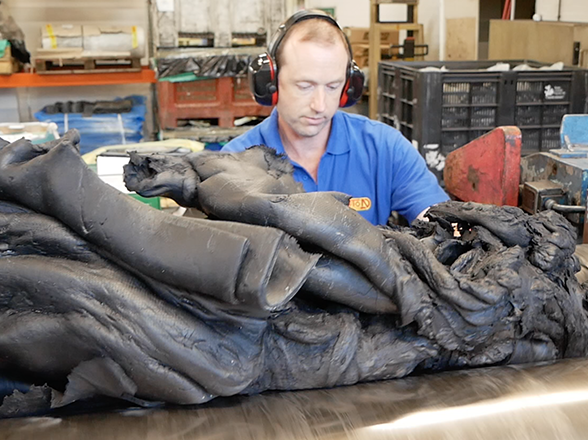 Rubber Moulding Materials
Moulded rubber products can be made using any commercially available rubber and in a wide spectrum of colours and hardness's. Common materials we process include:
Natural Rubber (NR) - Natural rubber is derived from the latex sap of the rubber tree and is the only naturally occurring rubber material. Natural rubber has excellent physical, abrasion and tear strength as well as good compression and deformation strength making it a very good material for dynamic engineering applications. However, natural rubber is not resistant to oils and fuels and has fairly poor ozone and weathering resistance. The most common commercial use of natural rubber is in tyres but it is also commonly used in rubber to metal bonded components, seals, and hoses.
SBR - Styrene-butadiene rubber (SBR) is a widely used general-purpose synthetic rubber, produced from a copolymer of styrene and butadiene. The physical properties of SBR are almost as good as natural rubber while being a more cost-efficient alternative. SBR is used across a broad range of applications, spanning everything from car tyres, shoe soles and heels, SBR drive couplings, automotive parts and mechanical rubber goods.
EPDM – EPDM rubber (ethylene propylene diene monomer rubber) is a type of synthetic rubber that has excellent resistance to ozone and weathering while maintaining good mechanical properties. EPDM is particularly good in external environments where good weather resistance is required such as EPDM seals, EPDM hoses, EPDM o-rings, EPDM window seals.
Neoprene (Polychloroprene) - Neoprene (also known as Polychloroprene) is part of a family of synthetic rubbers that are produced by polymerization of chloroprene. Neoprene rubber is self-extinguishing so offers excellent resistance to flame. The compound has good resistance to oils, ozone and sunlight but poor resistance to fuels. The most common commercial use of neoprene is in rubber belts, gaskets, refrigerant seals, and door strips.
Hypalon – Hypalon is a tradename for chlorosulfonated polyethylene (CSM), a synthetic rubber noted for its resistance to chemicals, flames, temperature extremes, and ultraviolet light. It is mainly used to produce rubber sheeting and parts requiring flame retardant properties.
Nitrile (NBR) - Nitrile rubber is also known as nitrile butadiene rubber (NBR), Buna-N, and acrylonitrile butadiene rubber and is a synthetic rubber. NBR has good resistance to mineral and vegetable oils and better resistance to fuels than most other rubber materials. Nitrile can be hydrogenated (HNBR) to improve the temperature and ozone resistance of standard NBR compounds. The most common commercial use of nitrile rubber includes automotive transmission belts, hoses, O-rings, gaskets and oil hoses and seals.
Fluorocarbon Rubbers (FKM/FPM) - Fluorocarbon Rubbers are known by several tradenames including Viton, Fluorel and Technoflon. FKM is a very high-performance material which has outstanding resistance to extreme temperatures, chemicals, fuels and oils. FKM's are very expensive materials and are generally only used in the most demanding applications, FKM components we produce include FPM hoses, FKM diaphragms, Viton gaskets and seals.
Silicone (MQ, VMQ, PVMQ, FVMQ) – Silicones are synthetic elastomers that have a Silicon-Oxygen base structure unlike the Carbon-Carbon base structure of other rubbers. Silicone therefore has both rubber and plastic properties and can be made to form soft rubber-like items, hard resins and liquids. Silicone has excellent heat resistance and flexibility and it is common used for silicone O-rings, heat-resistant silicone seals, gaskets and electrical insulators.
Rubber To Metal Bonding
We have the technical expertise to adhere rubber to other materials including bonding rubber to metals, plastics and ceramics. The rubber to metal bond can be achieved by three principal methods including:
Hot bonding - this is an irreversible permanent chemical bond which occurs during the rubber moulding or vulcanisation process. This method generally provides the strongest bond between rubber and substrate and is the preferred option for most parts that require a rubber surface finish or where an insert requires overmoulding with rubber. We manufacture parts such as isolation mounts, baggage handling slats, rubber covered handrails and rubber to metal bonded couplings.
Cold bonding – this involves adhering vulcanised rubber to a substrate after the moulding process using a chemical adhesive. This is useful in circumstances where it is not possible to bond parts in the mould or where the substrate is not suitable for moulding. Examples of cold bonding include adhering rubber moulded pintle pads to backing belts or adhering pintle rings to pintle rollers.
Mechanical fixing – this method involves fixing the rubber to the metal substrate using a mechanical fixing such as such as a rivet or bolt. Whilst providing limited strength compared to hot and cold bonding, mechanical fixing is useful where the rubber or substrate will need to be replaced.
In order to achieve an effective bond it is imperative that both rubber and the over moulded insert or metal substrate are prepared, processed and inspected in a controlled manner. We have over 50 years experience in bonding rubber to metal and have developed strict process controls to ensure our bonded products are reliable in the most severe applications.
Rubber Surface Finishes
Customers can specify their requirements for surface finishes for the rubber moulded products we produce. Rubber parts are manufactured with a moulded finish, this is where the mould cavity surface is transferred to the finished product. Moulded finishes can be specified to certain standards and will depend on the end use application of the product. Finishes include:
Commercial finish where the cavity of the mould will be finished to conform to good machine shop practices. No micro-finish is applied and machining marks in the mould may be visible. Commercial finish is supplied as standard unless specified otherwise.
Low cosmetic finish will provide a uniformly fine machined finish and most machining marks will be removed from the mould cavity surface.
Smooth polished finish where the mould cavity will be of a smooth polished uniform finish with no machining marks visible. This will give the rubber surface a gloss like in finish.
Bead blasted finish where the mould surface can be bead blasted to a light or medium texture providing a satin/matt surface finish to the rubber part.
In addition to the moulded finish of the part we can apply post mould finishes. This can include applying paint finishes or sanding the rubber to give a rough textured finish.
We have experience in all types of surface finish requirements for rubber products. If you require assistance with surface specifications or advice on suitable surface finishes, then our technical team are always available to assist.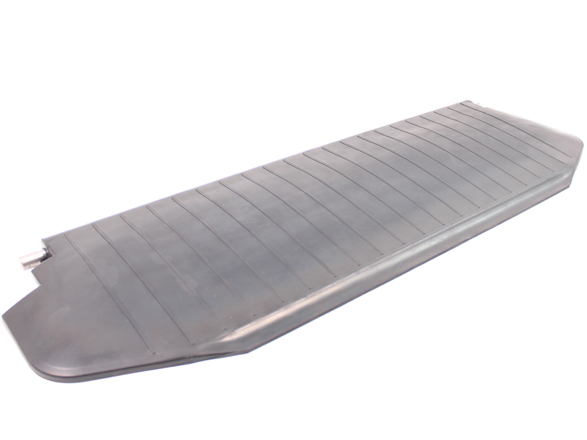 Find out more about our other Capabilities
Companies We've Worked With
0
1
2
3
4
Industries We Work In
We create bespoke and custom rubber mouldings for use in specific industry applications. Our rubber products and mouldings are trusted by many of the world's leading companies for use in some of the harshest environments, across a range of different industries:
Testimonials
"Really pleased we found Clifton rubber, their technical team really helped us in the early stages of our project and now they produce our parts which we know will be top quality every time."

"Excellent service which is unusual in this day and age. The polyurethane screening stars do the job great, very very pleased."

"The Clifton Rubber Bowls Ditch Liners look and feel top quality. Thank you for all your help and advice when placing the order. We will definitely be recommending you."

"Working with Clifton Rubber has been a real pleasure. Their technical department have gone above and beyond the call of duty to produce the special shaped rubber profile I required. I'm extremely pleased with the end result."

"Just to let you know that our new ditch matting that we purchased from you is spot on. Used all through this busy season, really pleased with it."

"Since Clifton Rubber has taken over the re-covering of these gripper pads the customer has had no premature failures and the products have a much longer lifespan."
Rubber Moulding FAQs
What is rubber moulding?

Rubber moulding is a process of transforming uncured malleable rubber into a usable elastic product by transferring, compressing, or injecting raw rubber material into the shape of a mould cavity.  The heat and pressure induced during the moulding process cause the polymer chains in the material to crosslink and form a rigid elastic structure in the shape of the cavity.

How are rubber mouldings made?

Moulded rubber products are made by transferring, compressing or injecting raw rubber materials into the shape of a mould cavity. Rubber mouldings can be made from any commercially available rubber and in a wide spectrum of colours and hardness's. Common materials include Natural Rubber, Neoprene, Silicone EPDM and others.

What are the different types of rubber moulding processes?

The most common methods for rubber moulding are injection, compression, and transfer.  For more details of how each of these processes work, please read here

How many types of rubber moulding are there?

We manufacture custom rubber mouldings so there is no limit to the possibility of form, size or shape of a moulding.  We make parts from all commercially available rubber materials in various hardness, colour and surface finish.  We can work to customer drawings and will help to ensure your custom rubber part is Designed for Manufacture.

Can you provide examples of industries that commonly use rubber moulding services?

Rubber moulded products are used in almost every industry. Examples of these industries include medicine and healthcare, electronics, aerospace, automotive manufacturing, offshore, transportation, sports and leisure, agriculture, recycling and many more.

What materials are used for rubber moulded products?

Common materials we process include: Natural Rubber, Neoprene, Nitrile (NBR), EPDM, Silicone, Viton, SBR, Hypalon

How do you ensure the quality of a rubber moulded product?

We can carry out a range of tests on product and material quality and our experts can advise on the best inspection methods for your project.  Our ISO9001 quality management system is at the heart of our processes and products are regularly quality inspected during the manufacturing process to ensure high customer satisfaction.

Can rubber moulding be used for both small and large scale production?

Rubber moulding can be used for a wide range of components in various shapes and sizes and in various quantities.   Mould tools are designed around the typical batch quantity so they can incorporate a single cavity to produce one off trial samples, or we can produce large multi cavity tools for high volume production runs.

What is the difference between injection moulding and compression moulding for rubber products?

Injection moulding is where rubber is continuously fed into a screw and then injected by a ram into a closed mould cavity.  Injection moulding is generally better suited to high volume production of smaller complex parts with a thin wall.  Compression moulding is the insertion of pre-formed rubber blank material into an open mould cavity which is then closed under pressure to form a shape.  Compression moulding is better suited to lower volume simple parts which can be quite large in size. To find out more about the advantages and disadvantages of each method read our 'What is Rubber Moulding' page.

Can rubber moulding be used for custom designs or is it limited to pre-existing moulds?

It can definitely be used for both.  We manufacture a range of standard components available in our products section for a wide range of industries.  In addition, we carry out many custom projects for customers to match their requirements.  (link to page)

How long does it typically take to produce a rubber moulded product?

If we have an existing mould our average lead time is around 2-4 weeks depending on required quantity and material specifications.  New moulds are manufactured by our in-house toolmakers and have a typical lead time of 6-8 weeks for tooling and first off samples.

How does temperature affect the rubber moulding process?

Temperature and pressure are the two critical factors in the mould curing of a rubber product.  If temperature is not controlled precisely then the rubber moulded part may not reach its designed elasticity resulting in products which do not perform as intended.

Are there any limitations to the types of shapes that can be produced through rubber moulding?

No – we can create a mould tool for any required shape.

Can you manufacture rubber moulding products in a range of finishes?

Yes – you can have a range of finishes – rough, smooth, patterned, polished and many more.