Sports & Leisure
Offering our bespoke services and expertise across the industry, we undertake bespoke projects to meet our customer's specific rubber and polyurethane product requirements.
Bowls Green Ditch Liner
Our Bowls Green Ditch Liner system has been designed to meet all new criteria and regulations whist offering the best protection for woods and jacks dropping into the ditch. The product is long lasting, maintenance free and therefore very cost effective, which is why they have been installed by hundreds of clubs worldwide.
The Ditch Liner system is made in 1000mm x 300mm sections ensuring a good fit for all size ditches and greens; however, we also offer a trimming service should you require a smaller ditch liner to fit your green. The rubber fingers ensure that when woods and jacks drop into the ditch they are held in position to reduce damage. Our Ditch Liners are manufactured by us in the UK using a high quality external grade rubber material and will generally last much longer than imported products using poorer grades of rubber. Our ditch liners are in use at hundreds of clubs around the world.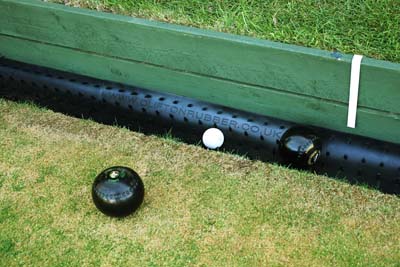 Companies We've Worked With
0
1
2
3
4
Testimonials
Hemingfords' Bowls Club (Cambridgeshire) installed the ditch liner's 2011 and they have given them a great review: "Clifton Rubber have developed a superb quality Ditch Liner which we use in our bowls green's perimeter. We had difficulty in finding this quality elsewhere and since its introduction our Ditch Liners have received nothing but praise. They look fantastic but mainly they do the job they were designed for. We now have a bowls green which meets the criteria required to enable our Club to stage County and National matches. We have no reservations at all in recommending this excellent new product to any other Club."

"We'd tried various methods of lining our ditches in the past, but they were poor quality and didn't last long. Having seen what Huntingdon Indoor Bowls Club were using we contacted Clifton Rubber straight away. We've now had their Ditch Liners in place for over 3 years and they are excellent quality, protect the bowls and are definitely worth the investment."

"The main function of a Ditch Liner should be to hold the Jack in place and protect it, along with any Bowls that roll into it. The Clifton Rubber Ditch Liners are ideal for this job. r I've played indoor bowls and seen the Ditch Liners there. We did a bit of investigative work to see what products were out there on the market. We read the reviews and got a very competitive quote, so we decided to invest."

"Just to let you know that our new ditch matting that we purchased from you is spot on. Used all through this busy season, really pleased with it."
Our Manufacturing Capabilities