Leading UK Manufacturer of Polyurethane Mouldings and Castings
Bespoke projects from concept through to delivery
Complete project management
Competitive pricing and short lead times
In-house precision engineering and toolmaking
Contact us
Polyurethane Moulding
Clifton Rubber is a prominent UK manufacturer of polyurethane mouldings and castings. We manufacture high quality parts to our customer's bespoke requirements in a range of different industries across the globe.
50 years of experience in manufacturing rubber and polyurethane products
Expertise across a range of industries
Quality at the heart of everything we do
All production carried out in-house in our UK manufacturing facility
Competitive pricing and lead times
In-house manufacture of all mould tools and moulded inserts
An Introduction
We have extensive experience in the design, development, prototyping and manufacture of polyurethane products and can manufacture almost any product required from our moulding, casting and coating processes.
Our expert technical team can assist in the design and development of any required polyurethane item, working with our customers to provide a high quality and dependable product solution. We produce components for various applications in all major industries including offshore, automotive and transportation worldwide.
Our History and Expertise
We have extensive experience in the design, development, prototyping and manufacture of polyurethane products at our production facility in Cambridgeshire.
Our facility spans over 50,000 sq ft and we are proud to have grown a global customer base. We strive to continually invest in state-of-the-art technology to be at the forefront of our industry.
Our highly skilled precision engineers are experts in the machining of precision engineered components including the design and manufacture of polyurethane moulded products.
To maintain a quality product and service we put quality at the heart of our processes. Our quality management system is therefore certified to ISO9001.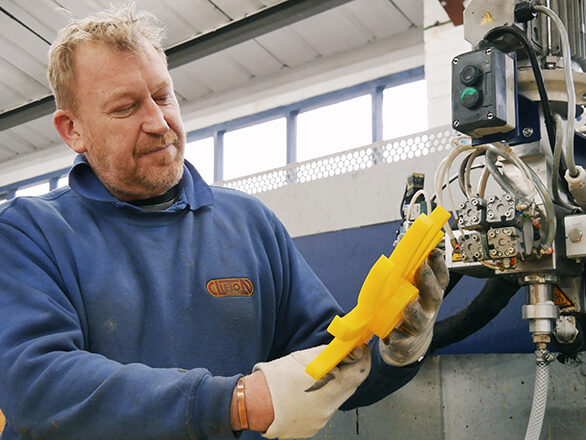 The Polyurethane Moulding Process
We process polyurethane using the two principal methods of open pour casting and closed injection moulding. Each process has key benefits depending on order volumes, product complexity and the required physical properties of the component's end use.
This production flexibility means that we are best placed to provide our customer with the best solution whether producing high volumes or single run bespoke items.
Our in-house precision engineering unit offers the capability to design and manufacture unique open and closed mould tools to meet all product requirements. Our mould tools are manufactured from durable alloys to ensure they produce quality products every time over many years of service.
The Product Produced
We have produced many custom products to match customer requirement. Our most common products include:
Wheels
Buffers
Coatings
Rings
Rods
Sheets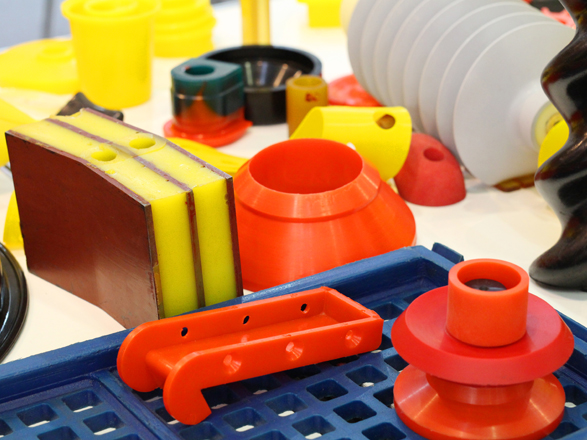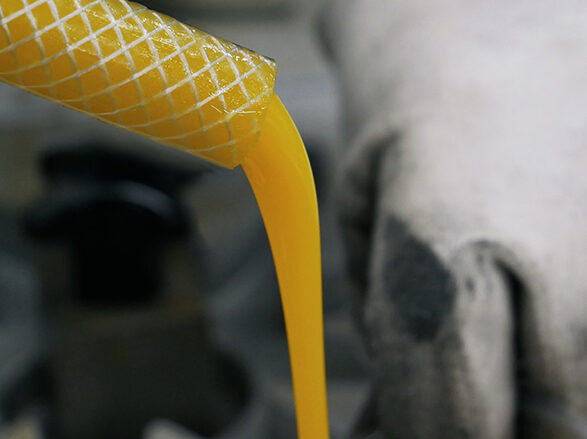 Polyurethane Moulding Materials
We manufacture bespoke products using a range of elastomer based polyurethane systems each with a specific chemical formulation depending on the required application and service environment of the end component. Our systems include both MDI and TDI Isocyanates, Polyester and Polyether Polyols.
Our processing equipment has the capability of varying the hardness of our materials anywhere within the range of 50 Shore A to 80 Shore D, and colours can be specified to suit the customer requirements, with commonly specified colours being: Black, Red, Yellow, Green, Orange and Blue.
The polyurethane materials we use in our casting and moulding processes are sourced from the industry's leading suppliers and are supplied to us having been tested and approved to the highest standards.
Companies We've Worked With
0
1
2
3
4
Our Industries
We create bespoke and custom rubber mouldings for use in specific industry applications. Our products are trusted by many of the world's leading companies for use in some of the harshest environments, across a range of different industries:
Testimonials
"Excellent service which is unusual in this day and age. The polyurethane screening stars do the job great, very very pleased."

"Really pleased we found Clifton rubber, their technical team really helped us in the early stages of our project and now they produce our parts which we know will be top quality every time."

"The Clifton Rubber Bowls Ditch Liners look and feel top quality. Thank you for all your help and advice when placing the order. We will definitely be recommending you."

"Working with Clifton Rubber has been a real pleasure. Their technical department have gone above and beyond the call of duty to produce the special shaped rubber profile I required. I'm extremely pleased with the end result."

"Just to let you know that our new ditch matting that we purchased from you is spot on. Used all through this busy season, really pleased with it."

"Since Clifton Rubber has taken over the re-covering of these gripper pads the customer has had no premature failures and the products have a much longer lifespan."
Polyurethane Moulding FAQs
What polyurethane is used for?

Polyurethanes are versatile and are used in a wide variety of applications to create all manner of consumer and industrial products.

Is polyurethane rubber or plastic?

Polyurethane is a plastic material (a synthetic rubber), which exists in various forms. It can be tailored to be either rigid or flexible, and is the material of choice for a broad range of end-user applications.  What makes polyurethane a great material is that is has the elastic properties of rubber but with the rigidity of a plastic

What are the disadvantages of using polyurethane?

PU has a shorter life span and is less weatherable than rubber.

Can you do custom moulded polyurethane runs?

Yes – we work with customers to meet their exact product requirements whether that be a custom or bespoke polyurethane project.

Is polyurethane waterproof?

Polyurethane is durable and 100% waterproof.

What are the common applications for Polyurethane Moulding?

We have produced many custom products to match customer requirements.  Our most common products include wheels, buffers, coatings, rings, rods and sheets.

Can Polyurethane Moulded Rubber Be Made in Any Other Colour Than Black?

Yes – we can make it in a range of colours.

Can Polyurethane Be Used Outdoors?

Yes it can – it depends on the application you are using it for.

Can Polyurethane Be Recycled?

Polyurethane can be recycled in one of two ways: either mechanically, in which it's reused in its polymer form, or chemically, in which it's broken back down into its chemical components. Common uses for recycled polyurethane include carpet padding, boards and mouldings that can be used in soundproofing and flooring, and even as raw material for new polyurethanes.